Our mission is to produce high quality hub dynamometers for the professionals. The dynos are equipped with eddy current brakes. We are focusing on the key things; easy and fast to use, great brake control and variety of features. Choose Dynolyze®, when you want to get the job done.
On our market area in Europe we have users in Finland, Sweden, Norway, Poland, Germany and France. The dynamometers are designed and manufactured in Finland, Europe.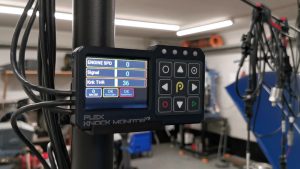 Articles
This is what we have been working on! The Plex Knock Monitor V3 integration to our dyno through CAN communication! In the previous update we
Read More »

News
A spectacular Dynoshow never seen before! BAR-TEK Motorsport Audi R8 V10 twinturbo showride on Dynolyze hub dynos at Turbo-Total box in Hockenheim! BAR-TEK Motorsport and
Read More »
News
In Finland, we are having a public holiday on Friday for Midsummer celebration. So on Friday 24th of June we are closed.
Read More »